Skinny Wine Spritzers are the perfect lazy way to enjoy a cold refreshing cocktail this summer!
Hello, friends!  I'm popping in today with this month's Recipe ReDux!
Cocktails and Mocktails for May Celebrations
Showers and celebrations with friends abound this time of year. Show us your healthy, colorful drink concoctions for festivities like bridal showers and graduation celebrations.
My intent was to make you guys a sangria recipe a la my mother.  She always talks about the sangria at this restaurant she used to work at and swears that the KEY ingredient was bananas.  Weird right?  I thought so.
She recounted the recipe to me, and I wrote it all down, then I laughed to myself BAHAHAHAHAHA YA RIGHT!  There were like 15 ingredients in it. I'm still laughing, can you hear me?  That is so not my style, especially when it comes to alcohol.
I mean there were like 15 types of juice, which we don't typically drink in my house anyway.  (We'd rather save our sugar calories for the good stuff like ice cream and chocolate and alcohol.)  Instead, I decided to bring you a recipe I make all summer long.  It's not really a recipe, but here it goes.
I took one bag of TJ's frozen tropical medley and dumped it into a pitcher with a bottle of red wine.  What kind of red wine?  I don't know, RED.  Sorry, despite my summer in Europe and many trips to wineries I know I like red and don't like white, that's all I got for you.  So I covered that with saran wrap and let it soak overnight.  RED WINE SOAKED FRUIT IS THE BEST!
I added more frozen fruit when I pulled it out of the fridge and then filled each glass with 1/2 wine and 1/2 passionfruit La Croix (sparkling water).  I would have drunk it like that except while photographing this outside by the pool the flies attacked it.  I found several floating in that big pitcher in the back.
Sadly, it had to be dumped, but I'll have plenty more this summer.  I don't know if you call this a recipe, more of a how-to, but I enjoy it, so hopefully, you do too!  If you are looking for something fancier check out the other more redux's recipes, I bet they came up with stuff way more bartender/mad scientist like than me.
[clickToTweet tweet="Skinny Wine Spritzers – the easiest and most delicious skinny #summer #cocktail ever! #healthy " quote="Skinny Wine Spritzers – the easiest and most delicious skinny #summer #cocktail ever! #healthy "]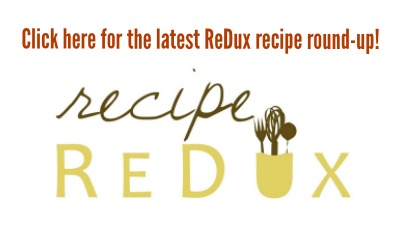 Skinny Wine Spritzer
Easy Wine Spritzer
Ingredients
1 bottle red wine 
2 cups frozen tropical fruit
garnish extra frozen fruit
Instructions
Add frozen fruit to red wine in a large pitcher and refrigerate overnight.

For each drink poor 1/2 wine and 1/2 La Croix.  
Looking for skinny cocktails?  Check out these:
Skinny Cranberry Orange Cocktail