This shop has been compensated by Collective Bias, Inc. and its advertiser. All opinions are mine alone. #SleepWellWithCopperFit #CollectiveBias
Hi, friends!  Today, I'm partnering with Copper Fit® to share with you a little bit about their new Copper Fit® Replenish Mattress and how getting a restful night sleep is key to promoting recovery.  Unlike mattress I've ever bought before, this mattress came in a box to my doorstep.
But before we get to that, let's have a quick chat about sleep.  Sleep is something I talk with my Hungry Hobby RD clients, almost every time we meet.  Getting enough high quality sleep is extremely important to achieving your health and fitness goals such as:
Improving memory
Curbing inflammation
Losing weight
Retaining and building muscle mass
Improving your mood
It's not just how long you lie in bed though; it's about the quality of sleep you are getting.  No amount of healthy eating or working out will make up for lack of sleep.  Plus, none of my tips to help you sleep longer and better will work if you don't have a comfortable mattress, designed to promote restful sleep and recovery.
Interested in upgrading your mattress in the easiest way possible?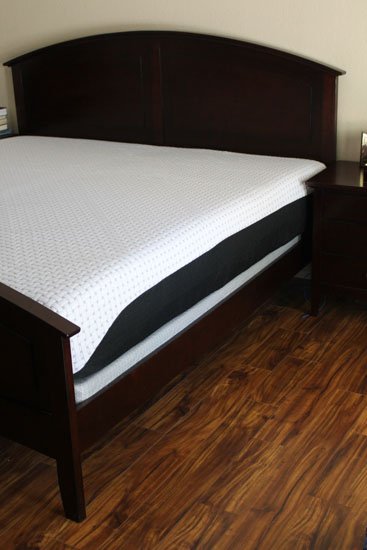 An In-Depth Look At The Mattress
The Copper-Infused memory foam cradles the body and provides excellent pressure relief to help eliminate troublesome aches and pains. The mattress is made of 100% polyurethane, made in the USA and CertiPUR-US™ certified which means it is manufactured without chemicals or heavy metals. Phthalate-free and low-VOC. The foam is manufactured using a Variable Pressure Foaming process that is the most environmentally-friendly in the industry.
5-zoned support layer that targets the different pressure points of your body targeting the head/neck, shoulders, back, hip/lumbar region and heels.
ZONE 1: Enhanced pressure relief in the head and neck area- so your pillow doesn't have to do all the work.
ZONE 2: Your shoulders need enhanced support, and we made sure they get it!
ZONE 3: You need the most support in the back area to help with those annoying aches and pains.
ZONE 4: The hips need a combination of support and pressure relief to achieve the amazing comfort you need to sleep.
ZONE 5: No one thinks about the heels, but we did. They put a lot of pressure on your mattress. We created this zone to provide relief.
Peace Of Mind When You Order:
I think ordering a mattress offline is kind of fun but also a little nerve-racking.  What if you don't like it?  That's why the folks at Copper Fit® created there 100 Night Money-Back Guarantee!  You also get free shipping and returns on every order.
We have a standard wood King frame, but the Copper Fit® mattress is compatible with your bed frame whether it's an adjustable frame, slanted frame or box spring. You can even customize the color of your custom-designed Copper Fit® mattress cover! For a limited time, you get to choose from Replenish Ivory or Replenish Black.
Mr. Hungry was surprised because the compact packaging made the king size mattress easy to move from our doorstep to the bedroom with no problem. (Full disclosure, I did receive a free mattress as part of this partnership.)
Once you start to unpack the mattress, it immediately begins to inflate, so they recommend you unpack it on the bed.  We forgot about this part but since it wasn't fully inflated it was pretty easy to move to the bed.  We let it inflate, as recommended, for about 24 hours before putting any bedding on it (we slept in the guest room the first night.)
What I liked most about this mattress was it's the fact that the open-cell technology that works to pull heat away from the body for optimal sleep body temperature.  The temperature change has been one of the things I've noticed the most about using this mattress the last few days.
Between the Arizona heat and the pregnancy hormones, I'm HOT all the time.  I feel like this mattress has helped to keep me cooler than I have been sleeping.
Which I 100% appreciate, I'm trying to get as much sleep as I can now before that emphasis third trimester when sleeping is continuously interrupted by peeing.  Followed by the emphasis forth trimester when sleep is continually interrupted by the new bundle of joy!
Let me know if you have any questions on this mattress; I'm happy to answer them!  Don't forget you can click the image at the beginning of this post to shop Copper Fit®!