These no churn ice cream cupcakes are gluten and dairy free plus made with no butter, oil, refined flour or sugar. A sweet creamy ice cream sandwich in cupcake form! 
Hello, friends!  Well, I'm blogging a little later than usual, I've had QUITE the morning so far.  I woke up bright and early to walk Nala and it was already 84 degrees outside, at 5:30 AM, that's crazy!  When we got back I inhaled some iced coffee and a quest bar, jumped in the shower, took Mr. Hungry to work (his car is in the shop), came home to clean up, grab Nala and drive 45 minutes over to my Mom's house so the home inspector could do his thing.
Nala is now exploring my Mom's house and is very curious what keeps making noise in the kitchen.  She can smell and hear the bird but can't see it because it's cage is covered with a sheet.  Luckily, because of the cat and many little dogs in Nala's life, she is used to having little moving animals around that she is not allowed to interact with.  Should have brought her stuffed bird toy to play with.
Enough about my life though, more about this awesome dessert!  I was totally down with this month's Recipe Redux theme, check it out:

Small Bite Desserts
In honor of our 6th birthday, we're celebrating with cake…or another small bite dessert that fits your fancy. Show us your healthy small bite dessert creation.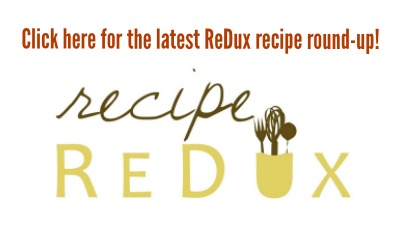 Can we talk about the word "healthy" really fast, at least as it pertains to dessert?  There are the obvious "healthy" desserts like fruit and dark chocolate.  There are also desserts like this.  I make no excuses for the amount of sugar in either of these recipes, it's Dessert! Granted it isn't refined sugar, but it's still sugar.  However, using black beans instead of flour and almond butter instead of butter or oil in the cupcake amps up the fiber and protein content without sacrificing flavor.  I was also super excited the ice cream without using an ice cream maker turned out pretty well!  It was definitely a little icier than normal ice cream but it worked pretty well!  Originally my plan with these desserts was to serve cold ice cream on top of hot cupcakes, but after I took photos of them and placed them in the freezer they were even better, like ice cream sandwiches in cupcake form! These babies are perfect for a hot summer day, definitely, let me know if you give them a try!  Got to run!
No Churn Ice Cream Chocolate Cupcakes
[clickToTweet tweet="No Churn Ice Cream Cupcakes #glutenfree #dairyfree – a sweet creamy treat everyone will love!" quote="No Churn Ice Cream Cupcakes #glutenfree #dairyfree – a sweet creamy treat everyone will love!"]
Coconut Ice Cream Chocolate Cupcakes
Ingredients
Black Bean Chocolate Cupcakes
Instructions
For Ice Cream: 
Pour coconut cream into a high-power blender and whip for 60 seconds.  Add coconut sugar and coconut milk ice cubes, then blend until smooth. 

Line a metal container with saran wrap and pour mixture into the container. I froze mine overnight, then let it sit on the counter while I was styling the photos, probably about 5-10 minutes.  Homemade no churn ice cream is a little icier than normal ice cream but still delicious! For the Brownies: 

Preheat oven to 350F.  Grease the backside of one cupcake pan and the holes of another cupcake pan. 

Add all the ingredients except the egg to a food processor and process until smooth. Add the egg and process until just combined.   

Divide batter evenly among the muffin tin holes, place the second pan on top of the other pan.

Bake for 14-16 minutes. You know it's done when you can big to pull the second pan off the first one and you have cupcakes. 

Fill each cupcake with your favorite ice cream or no churn coconut ice cream. You can serve them as is or place back in the freezer for two hours for more of an ice cream sandwich type taste! 
Frosted Flourless Thumbprint Cookies
Grandma's No-Bake Chocolate Peanut Butter Cookies