Soft and moist whole wheat banana muffins made with coconut oil and coconut sugar! Vegetarian
I know that I typically only post gluten-free recipes but I had to share these muffins I made for my nephew with you guys! I made them on a whim after making and attempting to re-shoot an old Hungry Hobby recipe, Blueberry Zucchini Muffins.
Unfortunately, the night time photo shoot did not go as well as me winging make these muffins out of some very ripe bananas we had on our counter! Then I realized that I made these babies totally from stuff I already had with no plans, which totally fits this month's Recipe Redux theme!
Spring Clean the Kitchen
Cook with at least 3 ingredients that are actually in your refrigerator or pantry right now. Try not to go to the store to buy anything new. Give tips on how to make a healthy dish out of whatever you have on-hand.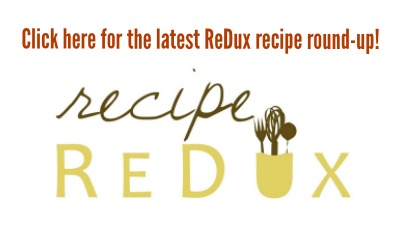 I also got a chance to try out these new littlesilicone muffin liners (affiliate link) I bought, which, despite having to wash them I love (and if you've read any Monday post ever, you know that's saying a TON.)
These muffins went about as fast as it took to make them, they made a great portable snack for my nephew who willingly gobbled them up! For a one-year-old, they were also much less messy than the blueberry zucchini muffin version!
Such a rookie mistake on aunties part, sure let's bake the one-year-old blueberry muffins so he can smear it and throw it anywhere he can find to do so, like all over his face.
Why is that child sitting on top of the counter? Well, funny you should ask. We got rid of our dining room table. It was an old table from my Grandma and I hated it, so I gave it to my Mom and have since been enjoying the extra space for my photography stuff. (We replaced with two bar stools and we have a tall table that is bar height as well.
We are not without seating ha ha) That was until my SIL and nephew booked a last minute trip out here. I then realized there was no kitchen table to feed my nephew at. They insisted we didn't buy a table in a rush so my MIL brought her portable high chair. Yes, he is sitting on the counter. At least I made yummy and healthy muffins right?
So that is what was going on in my world last week, in contrast, this week seems quiet but I've got a TON I'm playing catch up on! I feel like I'll never get there and it's already Wednesday, soon I'll give up for a couple days then repeat the process over again. What's going on in the world of you? Hopefully, soon you will have muffins!
Coconut Oil Banana Muffins
YOU MAY ALSO LIKE:
Coconut Oil Banana Muffins
Soft and moist whole wheat banana muffins made with coconut oil and coconut sugar! Vegetarian
Servings: 12 muffins
Calories: 179kcal
Instructions
Preheat oven to 350F

Line muffin tin with paper or silicone muffin liners.

Combine bananas, coconut oil, milk, and egg until smooth.

In a separate bowl combine whole wheat pastry flour, coconut sugar, baking soda, cinnamon, and salt.

Combine wet and dry ingredients, do not over mix.

Add batter to muffin tin and bake for 15-20 minutes, until inserted toothpick comes out clean.
Nutrition
Serving: 1muffin | Calories: 179kcal | Carbohydrates: 29g | Protein: 4g | Fat: 6g | Fiber: 4g | Sugar: 8g
Chocolate Chip Pumpkin Muffins
Whole Wheat Blueberry Zucchini Muffins